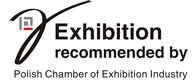 Honorary Patronage
SAWO 2018
PARTICIPANTS SAWO 2018:

03.06.2019
Last year, more than 84,000 people were injured in accidents at work. These are the latest alarming statistics provided by the Central Statistical Office. These tragic events are usually caused by a lack of a proper safety culture. Therefore, experts will talk about how to build it as part of the Occupational Safety in Industry Exhibition, held as part of the ITM trade fair.
31.08.2018
They took two weeks to fight against the element ravaging Sweden. They were confronted with forest fires and saved the lives of people and their possessions. They only needed four hours to get ready for this dangerous mission. The Junior Battalion Chief Tomasz Grelak, Head of the Operations Department, and Senior Captain Grzegorz Lewicz, Deputy Head of the IT and Communications Department at the Provincial Headquarters of the State Fire Service (KW PSP) in Poznań, did not hesitate a minute, although they had little time to meet and bid farewell to their loved ones.
13.06.2018
Feel free to watch the video of SAWO Fair 2018, which was held in Poznań, Poland, 24-26 April 2018
More news
---

Next edition of SAWO Fair - 22-24.04.2020, Poznań, Poland